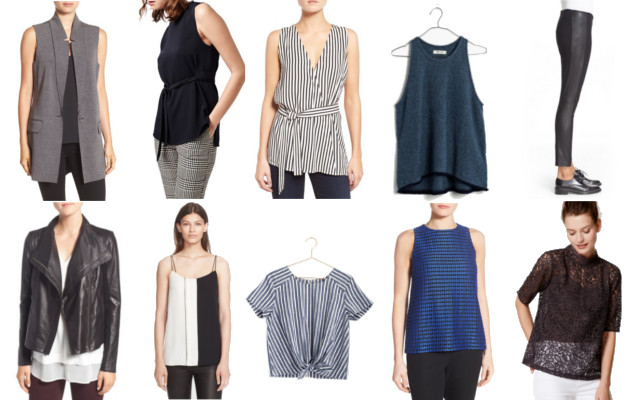 My goal in 2016 was to buy only 12 new clothing items, one for each month. I failed.
I set this goal for three reasons: 1) to be more choiceful, 2) to minimize my closet, 3) to save money.
I'm still reflecting on decisions made over the past year – including my wardrobe and items I purchased. It's interesting to analyze my purchases and decide whether I made smart choices. Live and learn, right? I can learn from my successes and failures in fashion, to make better decisions in 2017 about what to buy and when an item is worth the investment.
In hindsight, I did not NEED any these things. I can live without them. I wanted them at the time, and found ways to justify each purchase. You can actually learn a lot about yourself.
Here's what I added to my closet in 2016:
1 leather jacket
1 dress
1 vest/ blazer
3 pair of pants
10 tops (6 sleeveless, 2 short sleeve, 1 3/4 length, 1 long sleeve)
2 sweaters
Most frequent stops:
Madewell
Nordstrom
H&M
LOFT
Moorea Seal
Why I bought it: This was an investment purchase, and I've wanted a good leather jacket for years. After I tried it on last February, I had it on my wish list for months before I made the splurge. A good leather jacket is a staple because they're always in style, only get better with age, and can be worn almost any time of year. I will have this baby for years and years. And it goes with anything! Dress up or down, but my favorite pairing is skinny jeans, a V-neck t-shirt, and black leather booties.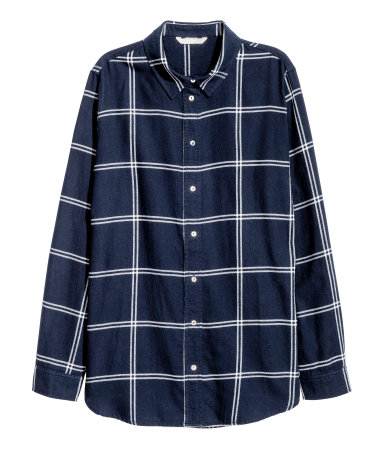 Why I bought it: Plaid is classic and can be worn with any piece in my closet – including dark denim, black, grey, or merlot (basically my entire closet color palette). It's a great transition piece. Wear it alone in the fall, or layer under a sweater in the winter. Oh, and it's so soft!
3. Jersey Dress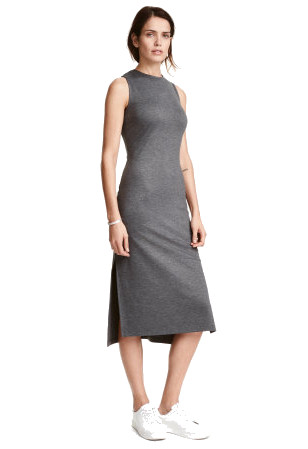 Why I bought it: I bought the maxi version of this dress in merlot, a prominent color in my closet. I'll admit that this was a non-essential purchase. And I've only worn it a few times. It's a lighter fabric, so I'll get more wear out of it in the summer and spring. I also want to try layering it during the winter…will be a good challenge.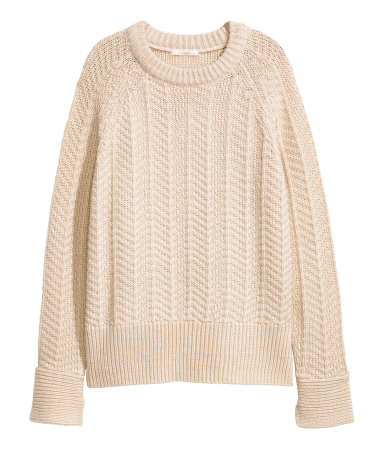 Why I bought it: It's cozy. It's boxy. It was $20. I've already worn it a million times. Good job, H&M. 
5. Trouve Striped Belted Top (Trouve, Nordstrom)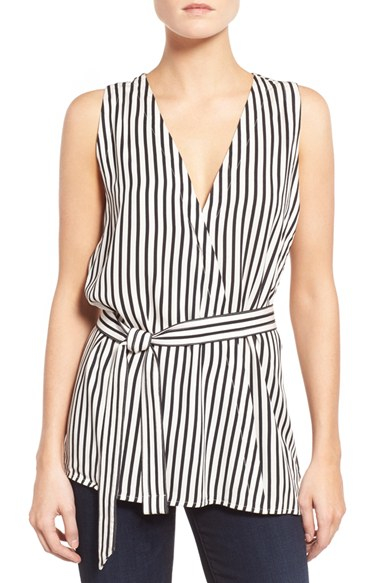 Why I bought it: I love stripes and the style of this wrap top. The fabric is a little silky and very soft. The belt accentuates the smallest part of my waist. My only regret? I bought it on sale, and there was only a size medium left. I should've purchased a small, because it's a little baggier than I would like. I have to wear a black camisole underneath it because the arm holes are big. This may be a good sewing project this winter. 
6. Black Leather Pants (similar Rag and Bone @ Nordstrom)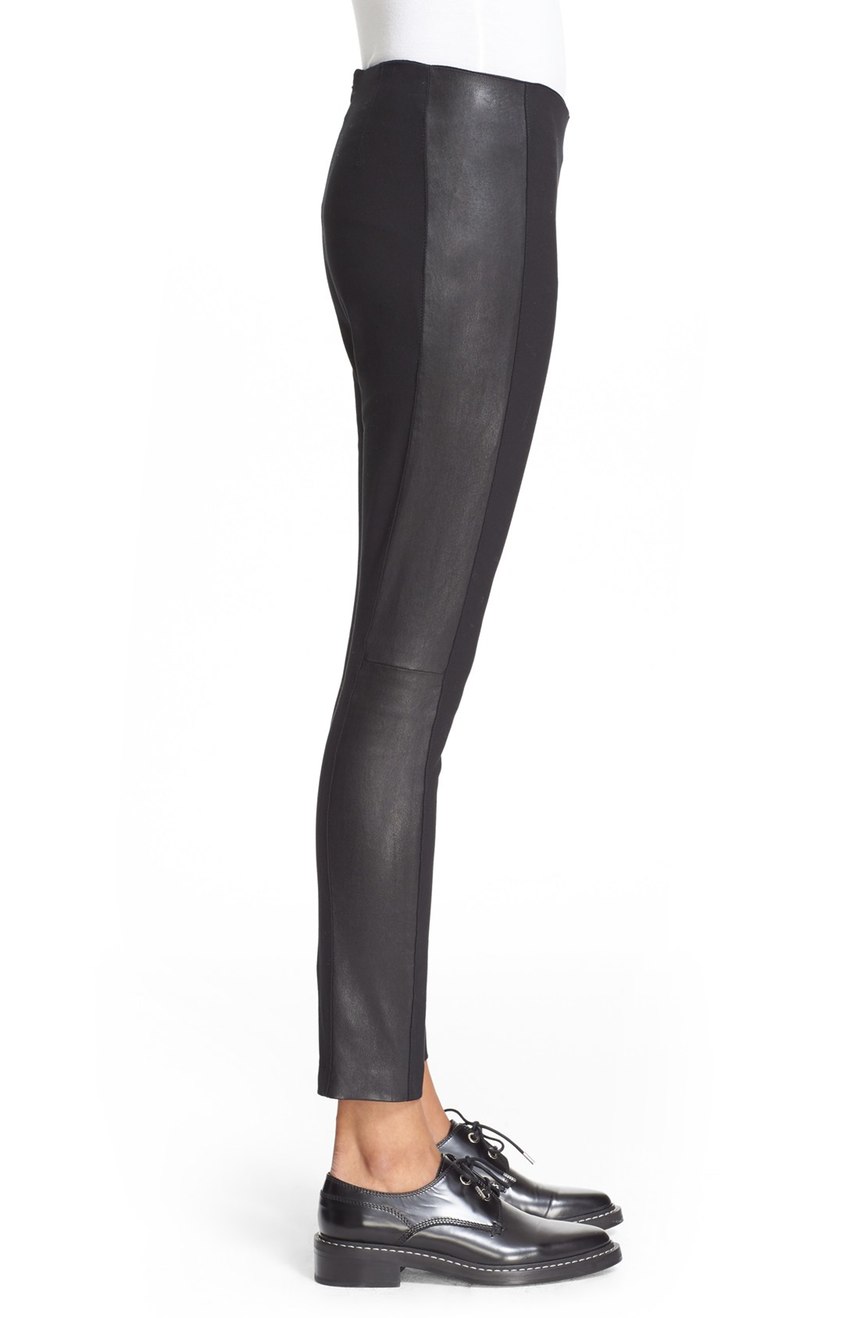 Why I bought it: A stylist at Nordstrom picked this out for me. It fits like a glove, like it was made for me. And I really don't care about labels, but it was on sale and a steal for a good designer like Rag and Bone. Because I could never justify buying it at full price. I hesitate wearing this to work, because it's well…leather pants…but maybe I can find a way to tone it down with a long sweater or top? 
7. Vince Color Block Ladder Stich Camisole (Nordstrom)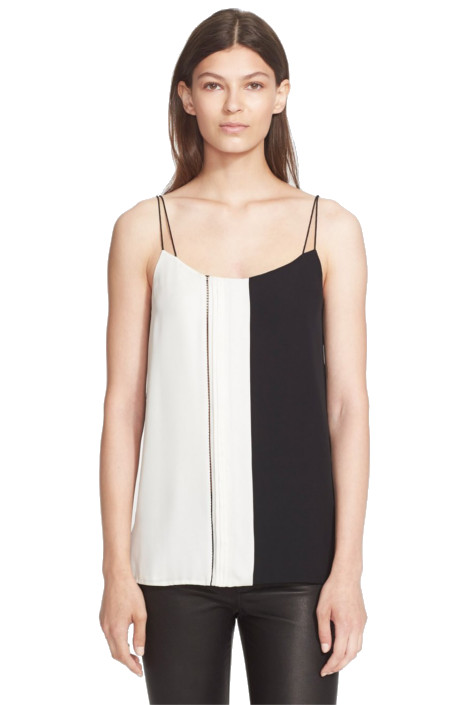 Why I bought it: I love this top, but I've only worn it twice: 1. Surprise 30th birthday party 2. Christmas party at our CEO's house. Not too many occasions to wear a fancy silk camisole. I wonder how I could layer it so I could wear more often? Another challenge! 

8. Swing Fringe Tank (Madewell)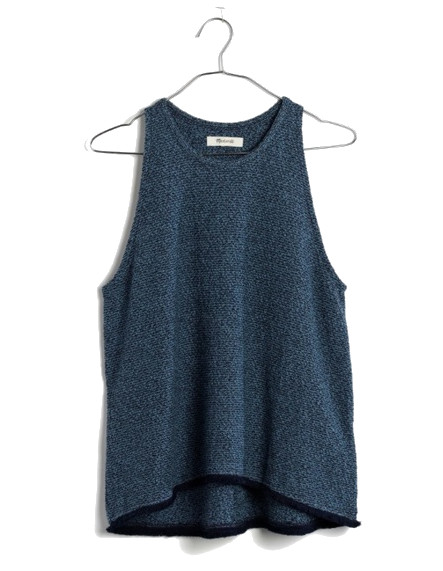 Why I bought it: This knit tank was acquired during a shopping adventure in San Francisco. It was an "entertainment" expense. It looks great with dark denim jeans, and very flattering to show off some shoulder. 
9. Striped Top with Front Tie (Moorea Seal)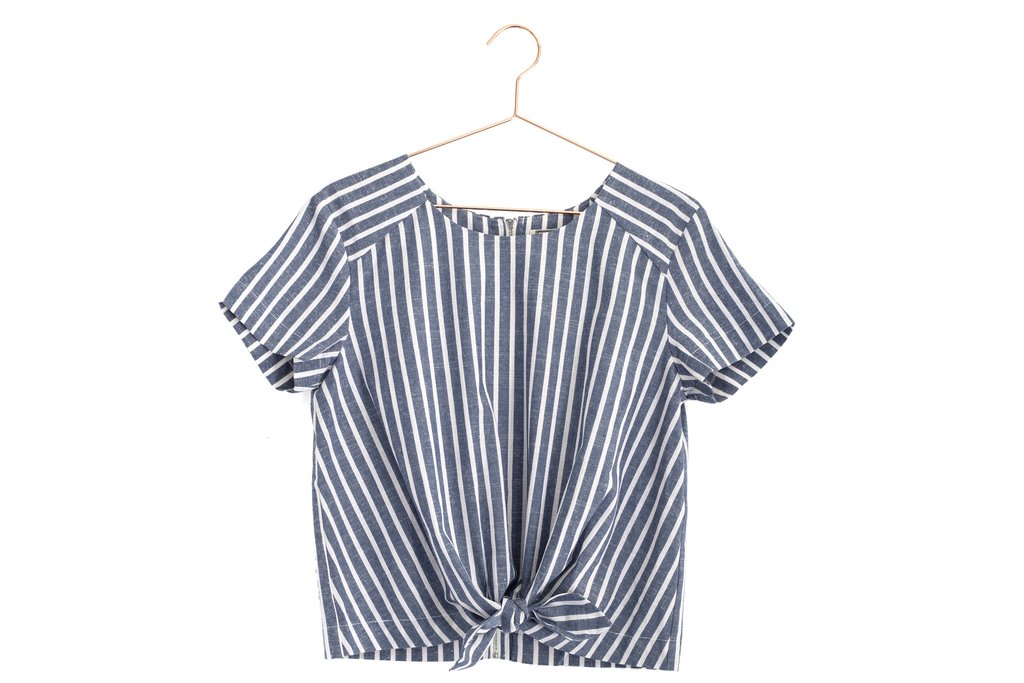 Why I bought it: An impulse purchase. I was browsing Instagram, found this, and bought it while boarding a plane! I've only worn it a few times, because I've always considered it more of a weekend outfit. Looks great with white, high-waisted jeans. Now that I'm re-evaluating it, I may be able to layer this with my oversized grey cardigan and wear it more often. Win! 
10. Topshop Sleeveless Tunic Top (Nordstrom)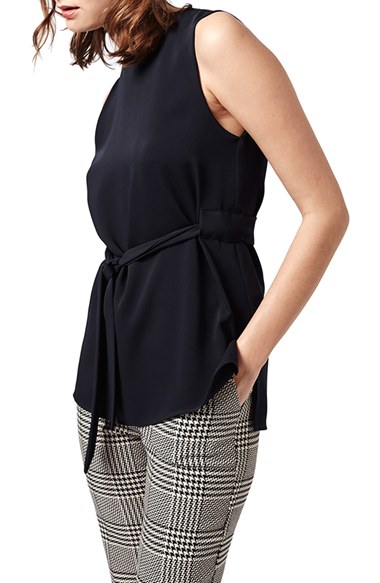 Why I bought it: I have a new obsession with dark navy. It's the new black? (I'm slightly color blind, so it is for me). This top was a good decision. It's a nice fabric, and can be dressed up for business meetings and dressed down for more casual attire. A good layering piece too.
11. Long Blue Vest (Nordstrom)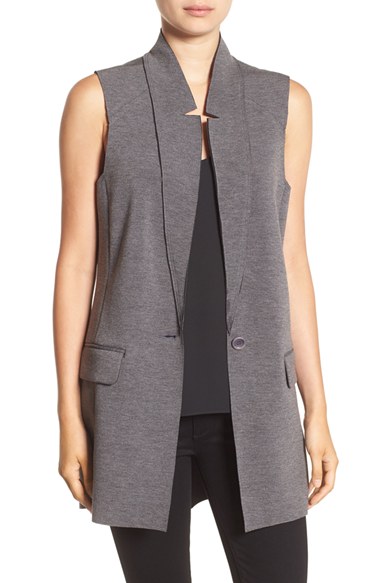 Why I bought it: The vest I bought is no longer available, but similar to this style. It's like a boyfriend blazer without sleeves, and mine is navy blue. I actually thought it was black when I bought it (color blind) so I haven't found a ton of things to wear it with since most of my wardrobe is black. Adding this blazer can make even jeans and a t-shirt look professional.
12. Grey Crop Linen Joggers (Nordstrom)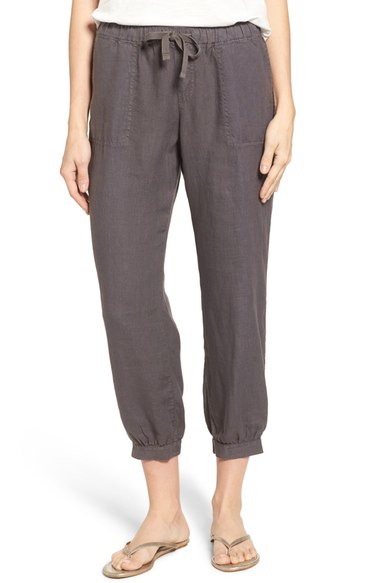 Why I bought it: The next few items were purchased before a business trip to San Fransisco. I was a little nervous about the weather, knowing that SF can be a bit cool even in July. So, I got some transitioned pieces like linen pants and a few new tops to go with them.
13. Black Linen Long Pants (Nordstrom)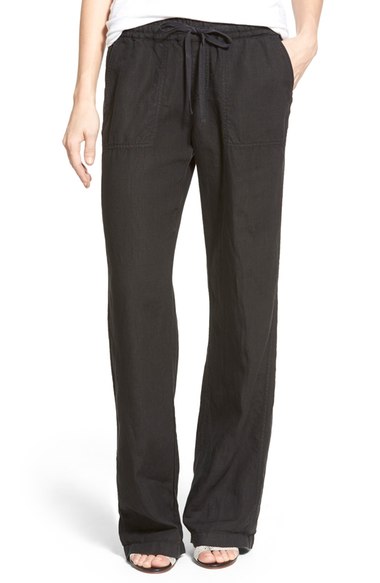 Why I bought it: Casual and comfortable for traveling. Perfect length for slide sandals, an athletic shoe, or a small heel.
14. Cream and Black Stripe High-Low Top (Nordstrom)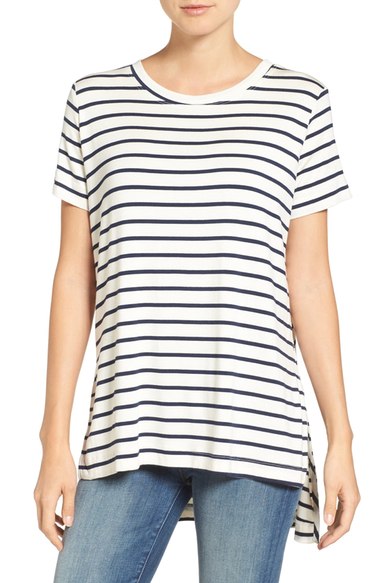 Why I bought it: Love this top, but have only worn it a few times. It pairs well with black linen pants (above). Since I bought them together, I always forget they can be worn separately. It's time to break this couple up, and wear more often. This image isn't the exact one (I can't find it online!) but it's pretty close.
15. Black Three-Quarter Sleeve Top (Nordstrom)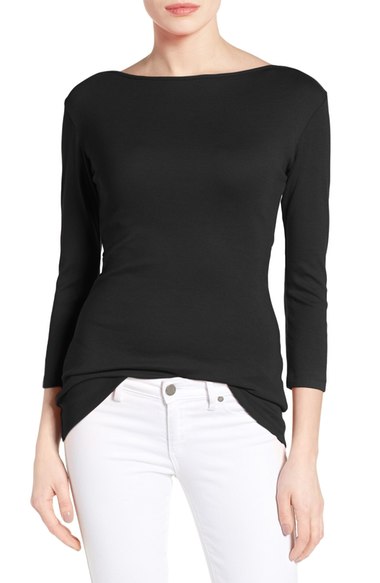 Why I bought it: Worn many, many times. It's half cotton/ half modal, so it's super super soft. Good purchase!
16. Sleeveless Button-Down Printed Blouse (similar @ H&M)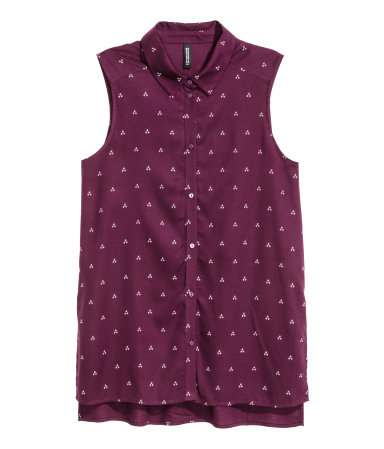 Why I bought it: This was a last minute purchase before Paul and I went to Naples. The top I own is a very colorful exotic print, but it's no longer available. Same style, so it pairs well with shorts or capris. Unfortunately, I've only worn this once so far – on vacation.
17. Elan Color Block Sweater Vest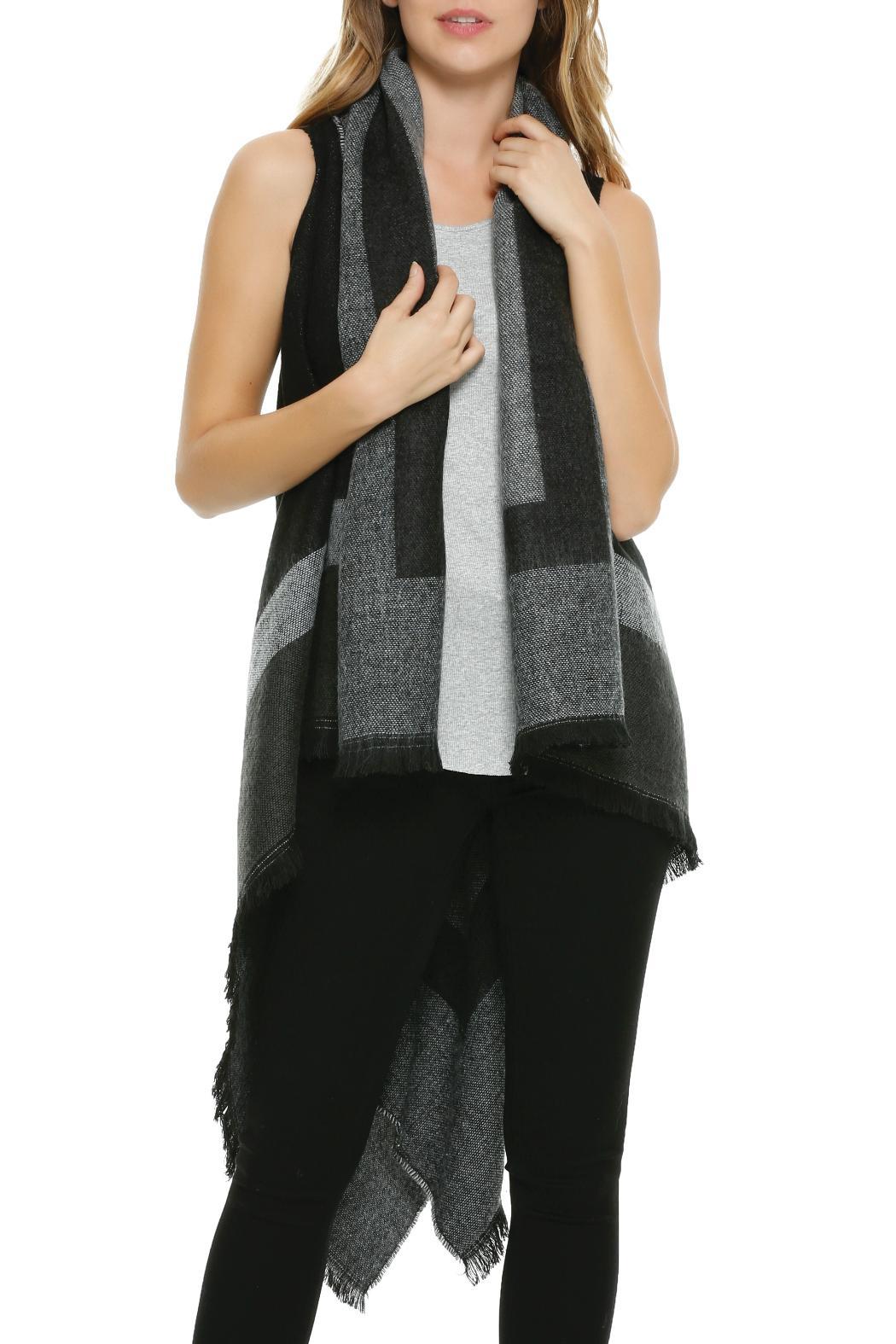 Why I bought it: Worn many times. A winter staple. I probably wear this once a week with black pants and a black turtleneck. I actually purchased from Dillard's, but it's now sold out. It's still available at this boutique.
18. Coal Grey Lace Mockneck Top (similar @ LOFT)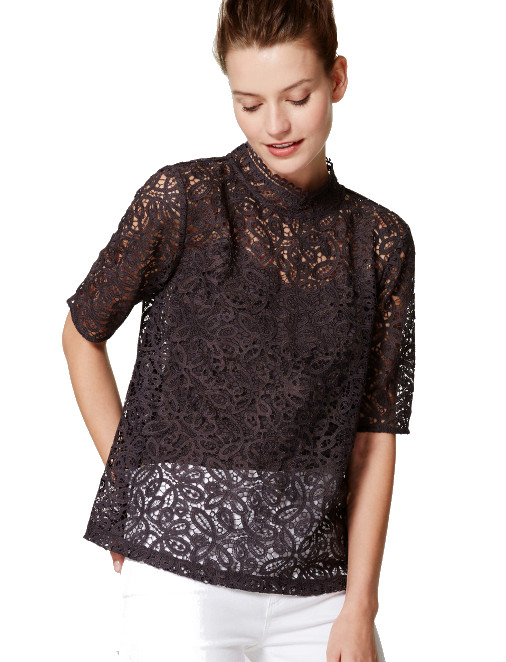 Why I bought it: So far, I've only worn this lace top once, on Christmas Eve with a pencil skirt. I don't wear a lot of lace, but I really liked this pattern and the mockneck. I need to try wearing this more often with jeans, to make it more casual.
19. Lace Detail Shell (Halogen, Nordstrom)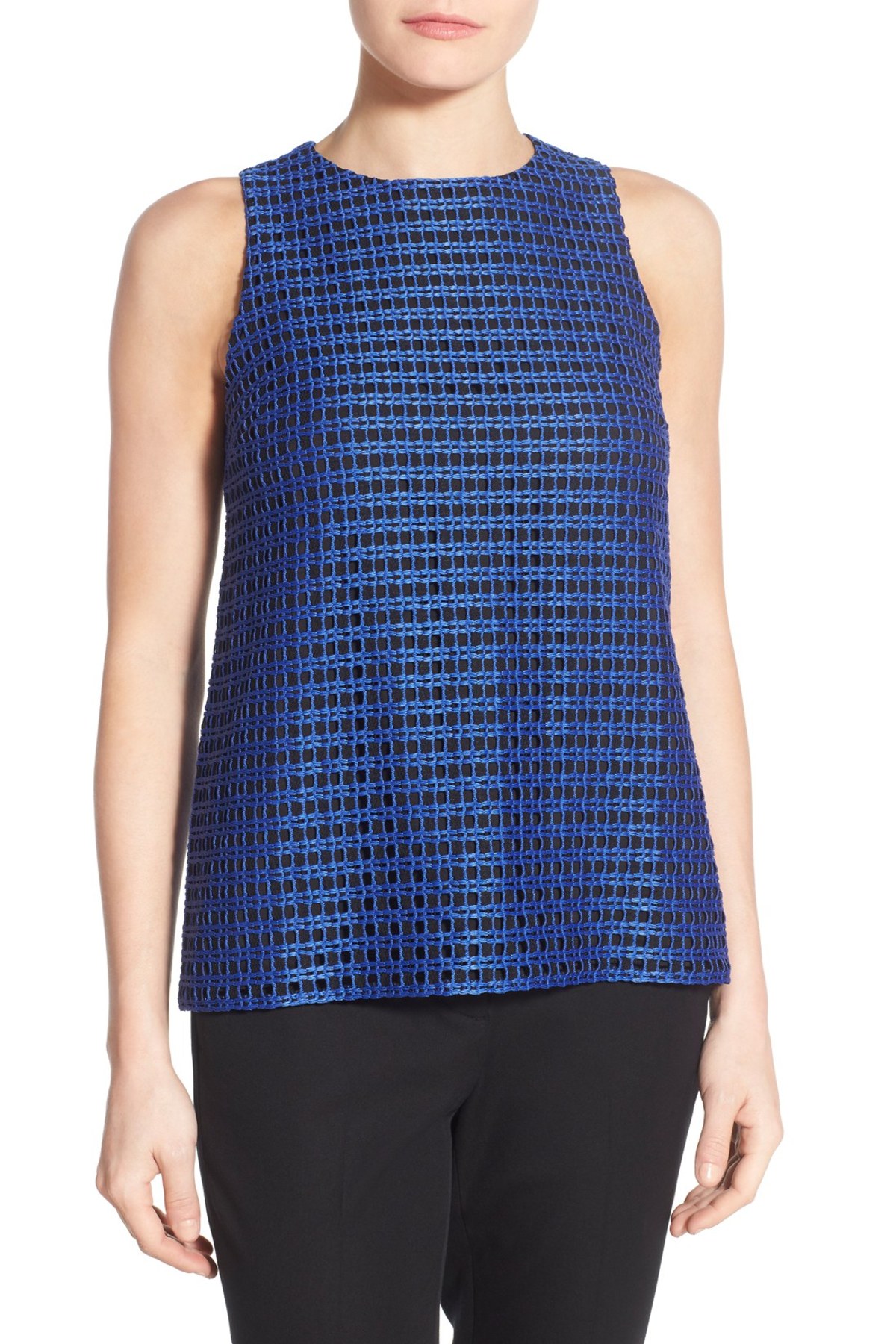 Why I bought it: I don't have a lot of color in my closet, but you'll see pops of cobalt. It's one of my favorites. And it looks so good with black, which I have LOTS of. I purchased this for both work and play. It looks great with black jeans or a black pencil skirt.
OKAY! To summarize…
What I learned about my 2016 fashion purchases:
Remember your lifestyle and think about the # of occasions when you will wear the item. For example, I've only worn dressy silk and lace tops a few times because we don't go to special events that often. May be better to invest in items that will be worn many, many times.
If it can't be worn to work, don't buy it. My office is casual, so work attire can be worn on the weekends too. So much of my life is spent at work, why should I buy clothing just for the weekend? Because it's trendy? Stupid.
As soon as you bring it home, use the new item to put together 10 outfit ideas. The challenge is to have at least 1 idea for each season.
Let me know what you learned last year!