What to Wear – Paris edition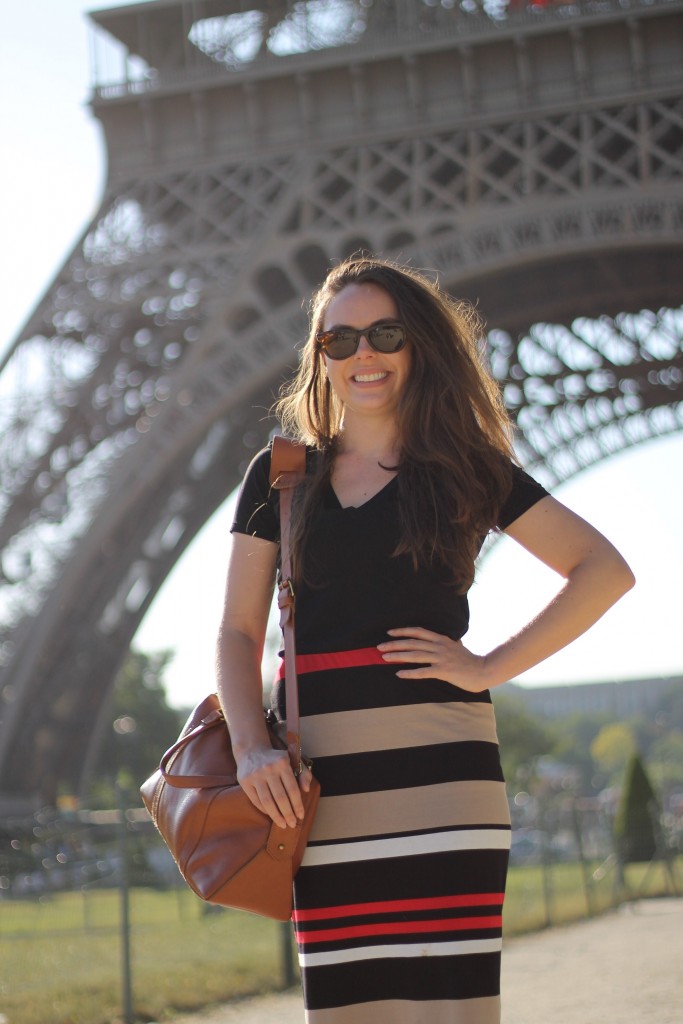 Before we left for our trip to Paris, I spent over a week packing and planning each outfit. I really wanted to know, "What are women wearing in Paris now?" I searched on Pinterest and asked friends who had visited the city recently. Paris is known for it's sophisticated and simple style, classic shapes and bright colored accessories. I chose to pack long and short dresses, a few flowy tops, black skinny jeans, white skinny jeans, and lots of stripes. My accessories included a camel leather cross-body bag, a black motorcycle jacket, black sandals, and sneakers.

On the plane, I wore sneakers in an old-fashioned Nike style, comfortable skinny jeans, and lots of layers to take on and off as I transitioned from outside to the airport to the air-conditioned plane.
In Paris, I started to notice a few very apparent trends. Everyone seemed to be following the same rules. I pass these along to you. If you are planning your wardrobe for an upcoming trip to Paris or just want to embrace the Parisian look, follow these style rules.
What to Wear in Paris – Accessories that every Parisian woman is wearing now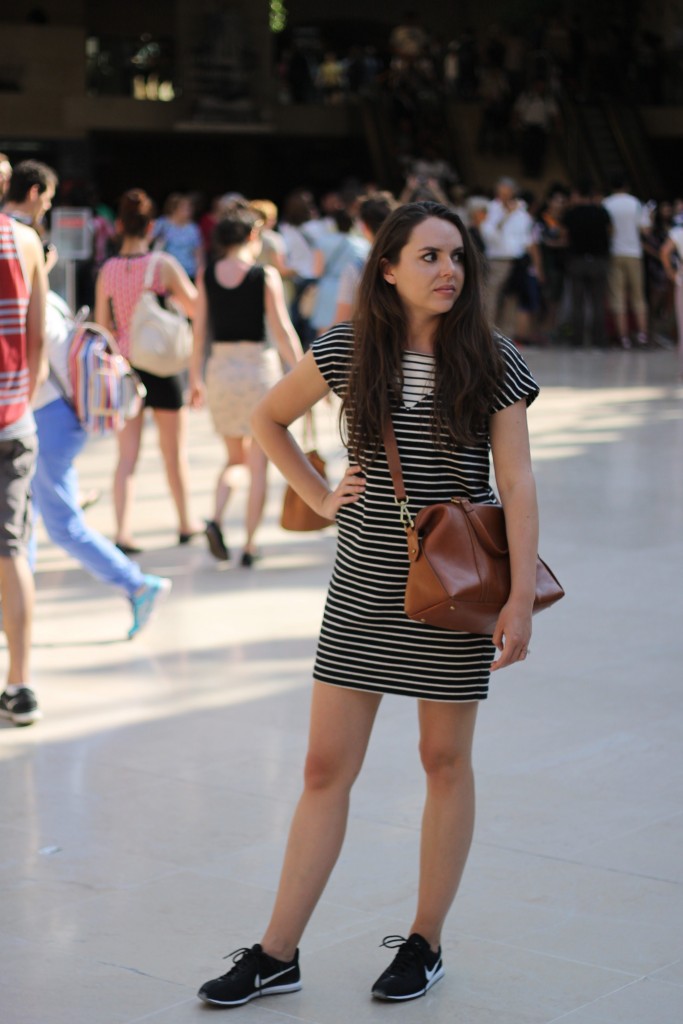 Sneakers
Sneakers EVERYWHERE, specially Converse, Adidas, and sneakers created by high-fashion brands.
Dark Red Lipstick
Dramatic and sexy, dark red lipstick also covers up that stain from all of the red wine you've been drinking.
Stripes
It's Paris. What more can I say? Black and white stripes will always be chic.
Neutral Accessories
From shoes to large tote bags, neutral accessories go with anything. They add a touch of sophistication that is relevant in any season. Neutral accessories also don't look like you're trying too hard (the goal of every Parisian woman).
Light Blue Denim
I was disappointed that my dark denim jacket is no longer in vogue. It's all about the light blue denim now. I probably counted a dozen light blue denim jackets every day while we were in Paris. Light blue jeans were popular too!
Black Leather Jacket
It's amazing how versatile a black jacket can be. It can be added to a simple dress or jeans and t-shirt outfit for a trendy, edgy vibe.
Get the Parisian Look
I've found a few items – some affordable and some splurge-worthy – that will help you to embrace the Parisian look. Have fun window shopping!
Now that you know what to wear, what should you do while you're there? Read my tips on what to do in Paris in 5 days.