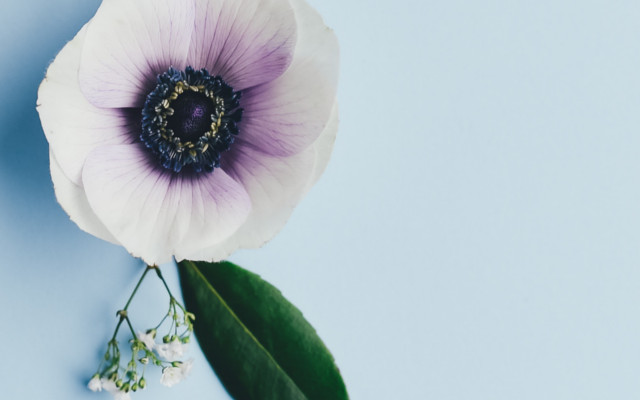 One of my long-standing goals was to have my beauty routine figured out before I turned 30. Why 30? Because it feels like the age when you should have something like that figured out. So, there's really no good reason.
Nonetheless, I've been on the hunt for the A + B = perfect, ageless beauty formula.
It's very easy to get overwhelmed with the amount of beauty brands and personal care products on the market today. I stopped my subscription to Birchbox because it got to be too much. So many choices! And when every brand claims they are the best, who should you believe? Even after you try the products, how do you compare them and know which ones are really working?? I bet you can visualize the frustration on my face right now, and you may be in the same boat.
On top of that, I recently learned that the U.S. government has been slacking when it comes to the safety standards of our products. Product manufacturers are using less than optimal ingredients, many of which may be detrimental to our health and a potential cause for many of the health issues we face today. And because our government isn't requiring health studies or pre-market testing for products, new products are introduced to us every day that contain toxins that are known to pose potential health risks, and also impact wildlife, rivers, and our natural environment.
Did you know that 90 percent of the approved 10,500 ingredients used in personal care products have never been evaluated for safety by the Cosmetic Ingredient Review, the FDA, or any other publicly accountable institution?
Luckily, I found a source that I trust. The Environmental Working Group (EWG) is an organization that studies and advocates for personal care product safety. Part of their mission is to communicate to the public about the realities of the industrial chemicals in our products. They have found that many products contain harmful chemicals, including carcinogens, endocrine disruptors, pesticides, and reproductive toxins.
I recently published an article about the relationship between our health and the products we use every day.
EWG's Skin Deep Guide to Cosmetics rates the safety of more than 80,000 personal care products. Their mission is to empower people to live healthier lives in a healthier environment. EWG is a non-profit, non-partisan organization dedicated to protecting human health and the environment. The organization invests in research and education, to help consumer make smart choices.
The best way to protect yourself and your family against these toxic ingredients is to learn about the ingredients that pose potential health risks and avoid using products that contain them.
How to: Audit your personal care products
Step 1: Take a picture of the product you use every day
As soon as I learned about the EWG, I began an audit of the products I use every day. I took a picture of each product, front and back (where the ingredients are listed).
Step 2: L

ook up each product by brand name and/or product name.
Download the EWG's Healthy Living app (Android or iPhone)
Go to EWG's Skin Deep® Cosmetics Database
EWG's Skin Deep is an online safety guide for cosmetics and personal care products, launched in 2004 to help people find safer products, with fewer ingredients that are hazardous or that haven't been thoroughly tested. Skin Deep combines product ingredient lists with information in more than 50 standard toxicity and regulatory databases. The database provides easy-to-navigate safety ratings for tens of thousands of personal care products.
There are two ratings for products and ingredients, a hazard rating and a data availability rating.
The hazard score, a 1-10 scale from low to high hazard, reflects known and suspected hazards. A product's hazard rating can be higher than the sum of its parts, if, for example, the product contains chemicals called "penetration enhancers" that increase the amounts of ingredients that soak through the skin.

The data availability rating – none, limited, fair, good or robust — reflects how much scientists know – or don't know – about an ingredient's safety.
Consumers should take both factors into account. EWG recommends products with low hazard scores and at least "fair" data availability.
EWG provides information on personal care product ingredients from the published scientific literature, to supplement incomplete data available from companies and the government. The product ratings indicate the relative level of concern posed by exposure to the ingredients in the product – not the product itself – compared to other product formulations. The ratings reflect potential health hazards but do not account for the level of exposure or individual susceptibility, factors which determine actual health risks, if any.
If you can't find a product in the EWG registry, you can look up the ingredients. I'd recommend focusing on the ingredients listed first, since these make up a larger percentage of the product than those listed at the end of the list. 
Step 3: Create a list of your products and categorize by their EWG rating.
I've been a loyal Burt's Bees customer for years, but I was surprised to find that not all of their products are good for you. I've been using their facial cleansing towelettes and ultra conditioning lip balm, but now will be replacing them with safer products made by Beautycounter. 
Previously using: Burt's Bees Facial Cleansing Towelettes: Rating 4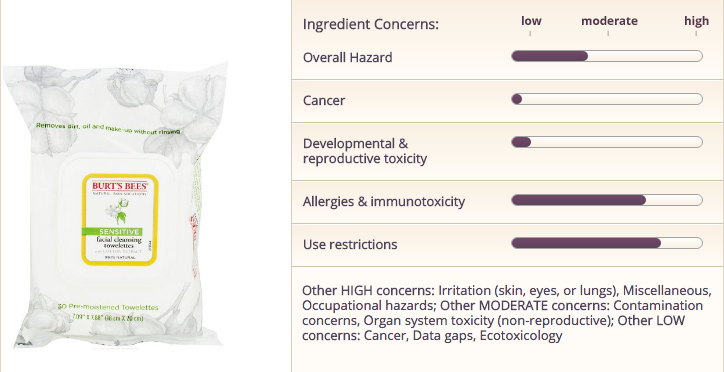 Better choice:  Beautycounter Cleansing Cloths – Rating 1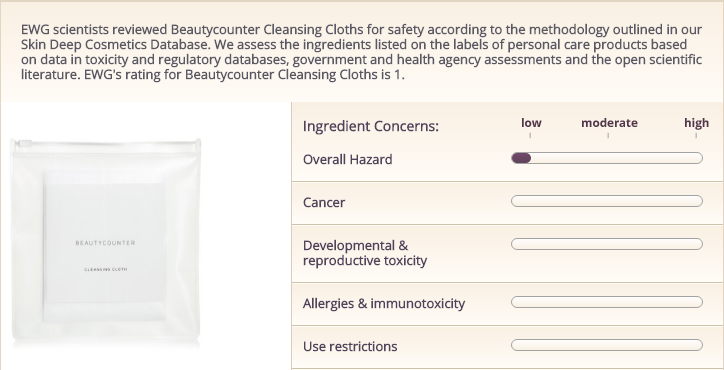 Previously using: Burt's Bees Ultra Conditioning Natural Lip Balm: Rating 4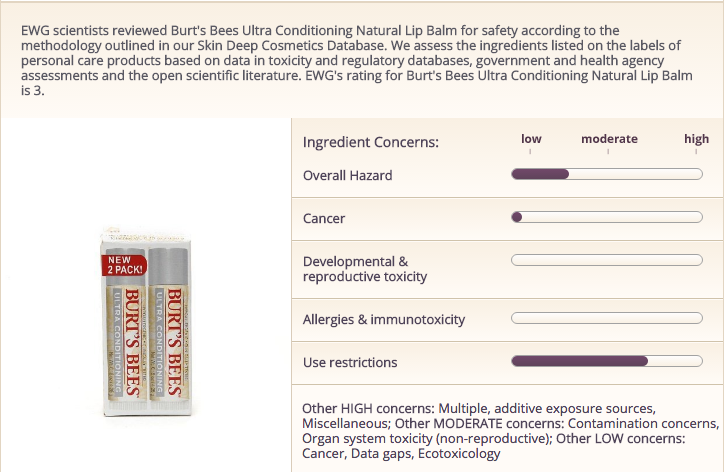 Better choice: Burt's Bees 100% Natural Lip Balm, Classic Beeswax: Rating 1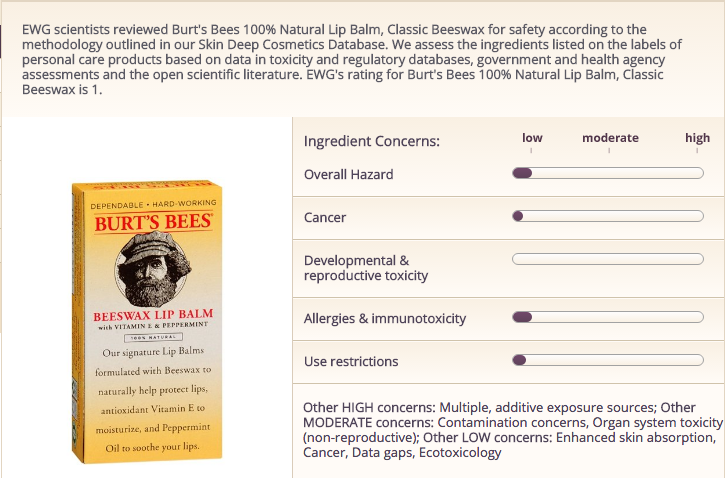 Step 4: Replace products with high toxicity ratings. I replaced my shampoo, conditioner, and body wash.
I've used Suave for years. It works well and is one of the least expensive haircare brands found in the grocery store. Now, after realizing that it contains ingredients that give it a high toxicity rating, I am using up the last of it now and trying out Beautycounter's Daily Shampoo and Conditioner. I also found Finesse Conditioner on the EWG, which has the lowest (and best) rating.
Previously using: Suave Moisturizing Conditioner, Almond & Shea Butter – Rating 5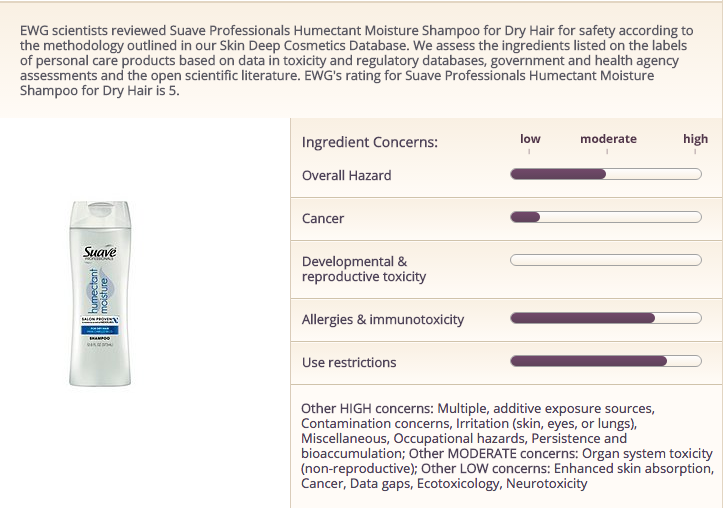 Better Choice: Beautycounter Daily Shampoo – Rating 2
A note about Beautycounter: By way of a friend and the EWG website, I found Beautycounter, a company devoted to getting safe products into the hands of everyone. All Beautycounter products are rated between 0 and 2, so it's a rockstar and go-to replacement for toxic products. And even Gwyneth Paltrow/Goop has jumped on board w/ Beautycounter!

TooltipText
Previously using: Suave Professionals Humectant Moisture Shampoo – Rating 5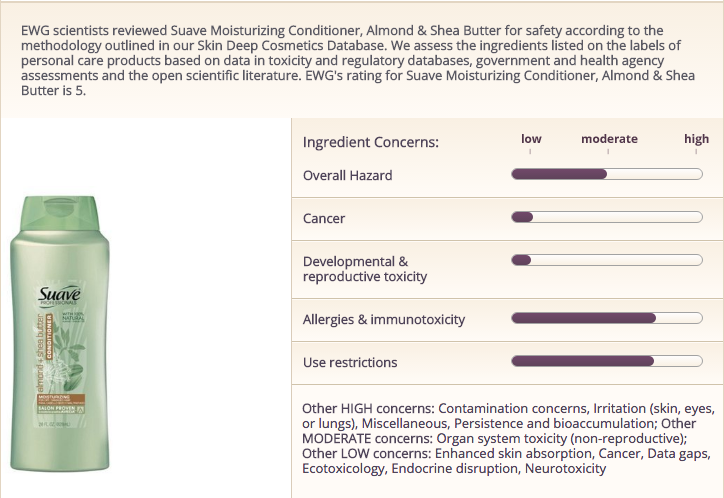 Better Choice: Finesse Conditioner, Moisturizing – Rating 1
Previously using: Suave Naturals Body Wash, Creamy Tropical Coconut – Rating 5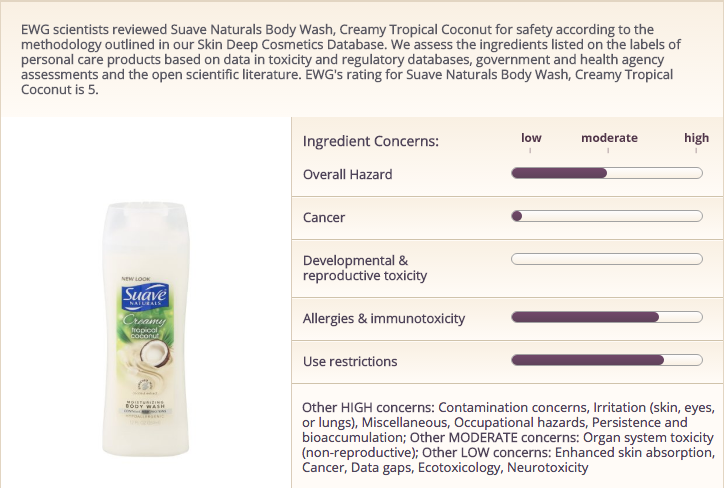 Better Choice: (seed) Grape Seed Enriched Body Wash, Lavender Sage – Rating 1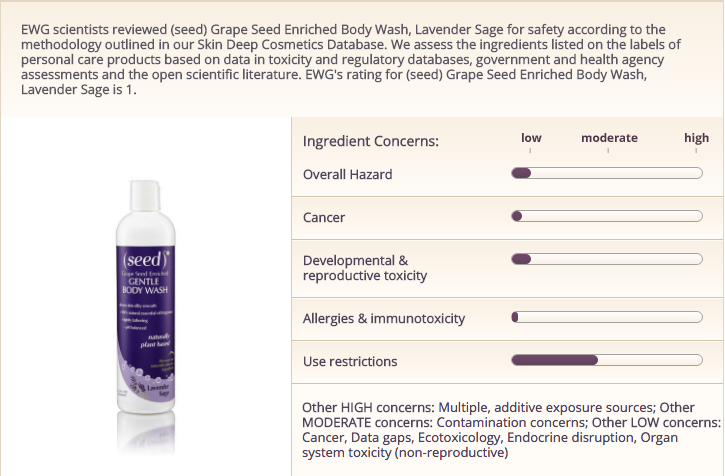 Step 5: Sharing is caring. Spreading awareness to your family and friends. This is an issue that is not widely shared by medical professionals.
[aps-social id="2″]
Before you buy:
After you've downloaded the EWG app, now you can look up a product to determine its safety rating before you buy it.

Watch out for marketing claims. Just because a product is labeled as natural, organic, or hypoallergenic doesn't mean the product contains 100 percent safe ingredients. Read ingredient lists carefully to be sure.

Know the worst offenders. Like ingredient lists on food products, ingredients are listed in order of weight on personal care products, meaning those listed first make up a larger percentage of the product than those listed at the end of the list.
Other helpful tips:
Choose fragrance free whenever possible to avoid allergic reactions. Always check labels to make sure that "fragrances" aren't listed, since manufacturers do not need to disclose the chemicals or ingredients used to make the fragrance.

Try to avoid using hair dyes and other products containing dye. Learn to love your natural hair color! Reducing your use of these products is another way to avoid high levels of toxic ingredients.